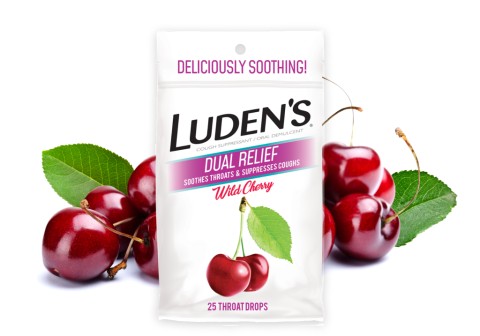 Dual Relief Wild Cherry
Dual Relief Wild Cherry Throat Drops soothe and relieve minor, everyday throat irritation, suppress cough and protect irritated areas in sore mouth and throat.
Available in a 25-count bag.
USES: temporarily relieves minor discomfort and protection of irritated areas in sore mouth and sore throat, cough associated with a cold or inhaled irritants.
ACTIVE INGREDIENTS (in each drop) 

Pectin 2.8 mg
Menthol 2.5 mg

INACTIVE INGREDIENTS

Corn syrup, FD&C blue no. 2, FD&C red no. 40, flavor, propylene glycol, sodium acetate, sodium chloride, soybean oil, sucrose, water.

Adults and children 3 years of age and older: allow two drops to dissolve slowly in mouth. May be repeated as needed or as directed by a doctor.
Children under 3 years of age: ask a doctor

Sore throat warning: if sore throat is severe, persists for more than 2 days, is accompanied or followed by fever, headache, rash, nausea, or vomiting, consult a doctor promptly. These may be serious.